Locksmith in Ardmore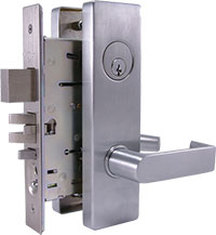 Ardmore, PA is a suburban community located in Lower Merion Township and Haverford Township in Philadelphia's western suburbs. Part of the Main Line, Ardmore is located nearby Wynnewood, Havertown, Haverford, Bryn Mawr, and other parts of the Main Line. Home to Lower Merion High School and adjacent to nearby Haverford College, a large number of students live in and around Ardmore.
Despite having fewer than 15,000 residents, Ardmore is a high traffic suburban area, with people drawn to Ardmore for its shopping and dining options along Lancaster Avenue, and in Suburban Square, an outdoor mall. Ardmore is home to a large number of single family homes and apartment buildings.
Served by the R-5 rail line and several Septa bus lines, ardmore is easy to access from Philadelphia and the western Main Line.
Despite the low crime rates in Ardmore and the Main Line, it is vital to protect your home and/or business from potential crime. Locks and doors that function properly can keep you, your family and your investment safe and sound.
RESIDENTIAL LOCKSMITH
|
COMMERCIAL LOCKSMITH
|
EMERGENCY LOCKSMITH
|
AUTO LOCKSMITH
Located in nearby Wynnewood, Main Line Locksmith has been serving Ardmore residents and their locksmithing needs for almost 30 years. With unmatched experience, professionalism and fair prices, Main Line Locksmith is the best choice for your commercial, residential, emergency and automotive locksmithing needs. We can repair and replace locks, doors, hinges, windows, window locks, garage doors, garage door openers, garage door locks, electronic locks, alarm systems, motion sensors, CCTV and surveillance cameras, rekey locks, set up master key systems for businesses and apartment communities and more. With a large number of single family homes and apartment complexes in Wynnewood and nearby Ardmore and Narberth, we have extensive experience with a wide range of locks and other security devices.
If you have been locked out of your home or vehicle, need to change your locks for security reasons, are experiencing problems with an older lock or door, or just want to improve your security to keep your family and/or business safe, contact the Main Line Locksmith now for a free phone estimate. We will quickly and painlessly and to discuss the fastest, best way to fix your locksmithing problems. 610-314-8701.